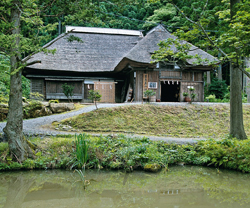 Oga Shinzan Folklore Museum offers a Lecture about Namahage, and is located next to the Namahage museum. It looks like a typical L-shaped traditional farmhouse (Magariya) of the Oga area.
After an explanation about New Year's Namahage events in the Oga Shinzan area, a Namahage visit will be accurately reenacted.
In this facility, you can feel and experience the events of Namahage like on New Year's Eve, which few tourists can see.
Also, traditional handicrafts are displayed to learn about the old lifestyle in this area.
Address

Kitaura Shinzan aza-Mizukuisawa 97, Akita
See the map

Lecture
<20minutes>
Explanation
Event reenactment

April - December <Every Day>

| | | | |
| --- | --- | --- | --- |
| 9:00 | 9:30 | 10:00 | 10:30 |
| 11:00 | 11:30 | | |
| 13:30 | 14:00 | 14:30 | 15:00 |
| 15:30 | 16:00 | 16:30 | |

Every Day(included in admission to the Namahage Museum)

Adult: 800 yen
 (Group: 750 yen/over 15 people, 700 yen/over 30 people)
Students: (Elementary, junior high, high school students) 500 yen
 (Group: 400 yen/Over 15 people, 300 yen/over 30 people)


January - March <Only Saturday, Sunday and National Holidays>

| | | | |
| --- | --- | --- | --- |
| 9:30 | 10:30 | 11:30 | 13:30 |
| 14:30 | 15:30 | | |

※ 1/1, 1/2 Special open day
9:30 - 11:30, 13:30 - 16:00, Open every 30 minutes.

Lecture fee (Including the admission to the Namahage Museum)

Adult: 1000 yen
Students (elementary, junior high, high school students): 700 yen


Contact

Oga Shinzan Folklore Museum
Tel: 0185-33-3033

URL